How data is driving improvements to employee experience in retail
This month Ento and JobAdder co-hosted leaders in Australian retail to discuss data-based decision making in the talent and workforce management space. This is an area I've been passionate about through my career in P&C, strategy consulting, and now at Ento, and I was delighted to facilitate the conversation. Despite retail being a competitive industry notorious for disruption, participants were open about honest struggles and the result was a realisation that everyone is facing the same problems.
Big thank-you to our industry experts to stepped up to the pedestal:
From swimsuits to stationary to washing machines, we had a variety of products and brands and target markets in retail, but a few similar themes across most businesses. I will share three of them here, and some takeaway tips. Our panelists may also recount their perspective if you send them a really nice LinkedIn message.
Theme: P&C is behind when it comes to digital and data maturity.
To the HR professionals: it's not your fault. The HR function is a cost centre, and it's often difficult for senior leaders to negotiate a larger share of the funds when they're competing with business functions that have clear financial benefit levers or cool new products. However, once you start collecting data you can better justify investment and challenge the assumption that HR is just for 'soft' benefits.
Start with what you can measure now: retention rates, cost to hire, revenue per staff, and exit interview results, to name a few. Share this data with the business to show that you can 'speak numbers', and that you can help quantify a business case. Remind fellow leaders that business change always impacts employees, and you can help measure how.
Provide basic data acumen training to your HR employees, even if it's through a free online resource like edX. The more people understand the basics, they more they'll be able to join the conversation and question or add to an analysis. This will help them bring their HR expertise to the table.
Champion an initiative that does have a financial benefit to build up your reputation. Key opportunities discussed were to measure ROI on different recruitment channels and shift investment accordingly, or to align rosters to forecasted demand, increasing revenue and lowering labour costs. Connect with people who have done this to learn from their case studies.
Theme: You can borrow approaches to measuring customer experience to design and measure your employee experience.
Some businesses may have a mantra that 'the employee comes first', but when you look at the numbers, customers are definitely invested in first. Luckily, customers and employees have a lot in common so you can borrow frameworks from customer analysis to support employee analysis.
Net Promoter Score (NPS) is a well-accepted customer metric, and it's now common for businesses to reframe this question and ask internally "Would you recommend 'Company/Team' as a great place to work?". Instead of broadcasting results you can measure how many people responded per team so that you drive high, honest response rates instead of pressure to give high scores.
Journey mapping is a common tool for designing customer experience, and the same concept can be applied to the employee lifecycle. Often the most valuable to stages to map out are:

Recruitment process: even declined applicants should have a positive experience because they are likely customers too, especially in retail.
Onboarding process: this is a proven critical stage for improving retention long-term and developing the right behaviours early on.
Daily operations: this stage is often forgotten, but has the greatest impact on an employee because they can spend years cycling through this experience again and again.

Utilise activity tracking to understand what employees are actually doing. For example, if you have a wellness program that offers yoga classes, recipes, health support, etc, you can collect metrics on what employees are actually using. You could do the same with an LMS to see where people want to develop. Once you know what they value, you can broadcast it in your Employee Value Proposition.
Theme: Collecting data isn't enough. It needs to be visible when people are making decisions.
Unfortunately, using systems to gather better data is only step one. You then have to make the data usable. This was a consistent pain point for many teams, but we did get a few bits of advice:
Consolidate! The more data sources are stored in one hub, the better. This way it's easier for you to get a single snapshot in time.
Create a habit of using dashboards. Even for those of us who don't have the luxury of a consolidated database (most of us), you can use consistent assumptions and filters to show the same key metrics that everyone should be tracking to. If you don't choose the data parameters, people will manipulate the data to tell their own story. It's not hard to do, as per a classic book on data basics: How to Lie with Statistics by Darrell Huff.
Use software to display relevant data in daily operations. The example I know best is roster optimisation (image below).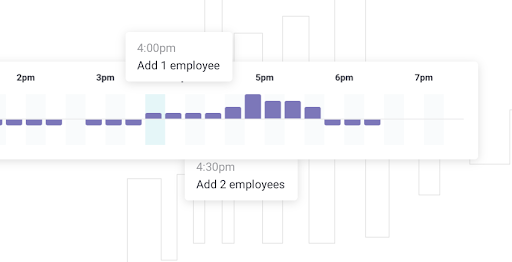 People think that they want financial optimisation, but they don't. I've learned that what people actually want is something really really close to financial optimisation that also allows a human to make human decisions, even if it costs a bit more. Best practice is for data-based suggestions to guide managers at the time that they're making decisions, like adding shifts to a roster. This means that managers get to give shifts that satisfy all-star staff, but are also aware of the cost of deviating from the 'perfect schedule'.
This was the first breakfast series we hosted on Workforce Innovation in Retail, and we've clearly opened up a topic that retail leaders are keen to discuss. While attendees identified P&C as 'behind' in the data space, they were also swarming with ideas on how to catch up, whether it was taking inspiration from customer-based metrics or making data usable quickly. We are just getting started with digging into data – many of the points above could even stand alone as a deep dive topic (plug: such as Ento's agile workshops on EVPs).
Attendees left the event with validation that they're not alone in navigating the complexities in retail, but also with some inspiration. Panelists shared the topics that they're curious about on the peripherals of their core plans:
Personality profiling to match employees with customers (it's always interesting to borrow from other industries, so why not online dating?)
Pulse checks instead of annual engagement surveys (retail is lucky to already have daily touchpoints with employees via clock in/out to leverage)
Measuring team performance to see if select employee groups drive more sales when on shift together (and which ones are not a match)
We'd like to keep the conversation going, so comment with your thoughts below. Do these themes feel familiar, or do you have any tips on using data in the people space?
For the fellow nerds that would like to dig deeper, I'm open to a long chat over a long black.
You can reach me at ami@ento.com.