Fill your shifts with the perfect people
Building rosters is complex, takes time and can be error-prone. The ramifications of building a roster incorrectly can be severe too, ranging from loss of revenue, poor customer service, compliance breaches, unhappy staff and over or inefficient expenditure.
With the click of a button, Ento's roster builder can save your managers time by assigning staff to shifts across the roster, taking into account availability, labour costs, proficiency, utilisation & common fatigue rules to roster the best person for each shift.
Using autofill
Once activated, the autofill button will appear for all managers in the 'action bar' on the top right of the roster.
Click 
to autofill unassigned shifts or optimise existing shifts within your roster.
When you have nothing selected, this will fill all unassigned shifts in the whole roster. To do specific roles, days or cells firstly select the appropriate cell & then use autofill.
Ento will then evaluate your roster, shifts & staff  to come to the ideal shift & staff matches.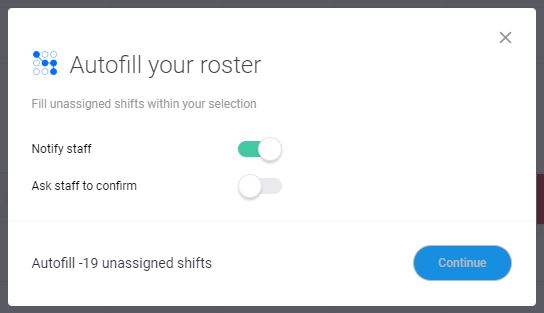 Reviewing suggestions
Once Ento has assessed all possible combinations, you are able to see the confidence & impact of each suggested new assignment.
Click 'Apply' to accept the suggestion
Tick 'Apply to remaining suggestions' to accept all
Ento will display these suggestions in order from lowest confidence to highest. This is so that you can manually apply or dismiss the lower confidence ones individually to the point where you're happy to then bulk 'Apply to remaining changes' for the rest.
Only at this point will Ento actually assign those staff and notify them if requested earlier in the process.
How Ento chooses which staff to assign
Ento uses a complex algorithm to match your staff to shifts. This algorithm looks at your whole roster to ensure you are getting the overall best outcome.
When matching staff to shifts Ento will consider the below:
Availability (avoiding leave, unavailability and other shifts)
Staff base rates
Proficiency via star ratings
Role compliance (has permission to work the role and has any required qualifications)
Over & under utilisation (how many hours is the staff rostered to work this week)
Break requirements
Consecutive days worked
Time between shifts
Minimum shift lengths
Limitations
There are a few things that autofill doesn't consider. These are:
Managers won't receive a 'warn and block' popup, though these can be sees as alerts when stepping through suggestions
staff must be assigned & qualified for roles, this mean role & location secondments aren't considered
Uses only indicative costs based on base rate and length of shifts, it will not do a full interpretation of afternoon/weekend/holiday penalties, etc.
Doesn't check for custom award warnings, only standard fatigue rules such as consecutive days, minimum shift lengths, etc.
If you're interested in having autofill turned on for your account, or you have any questions about how it works, please feel free to get in touch with Ento Support using the chat bubble on the bottom left of the page.
Other relevant articles
Was this article helpful?