Welcome to our product showcase, full of release information and early looks at upcoming development.
Bulk edit in the roster builder    
RELEASED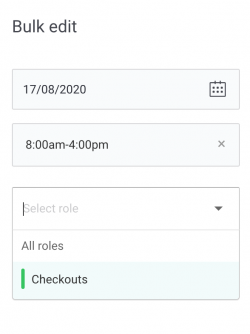 An exciting addition for those rostering a lot of similar shifts who may need to make adjustments in bulk, the new 'Bulk Edit' feature is housed under the More Actions menu and can help rostering managers save a bundle of time.
FastTrack integration    
RELEASED
An array of extra functionality for our system-spanning FastTrack functionality has been finalised and released:
Implementation of auditing, monitoring, logging & alerting of issues with the FastTrack integration
Sync success & error messages now appear in the Ento roster builder when creating shifts
Automatically sync Job Templates from FastTrack daily, so that managers on the roster always have up to date and relevant templates to choose from
Late break award condition    
RELEASED
A new award condition allows our award interpreter to alert and pay additional earning rates when an employee hasn't taken a break within a certain number of hours into their shift, until that break is taken.
—
See you next month for another update! Feel free to check out past showcases here.