Welcome to our product showcase, full of release information and early looks at upcoming developments.
Dashboard improvements   
READY FOR RELEASE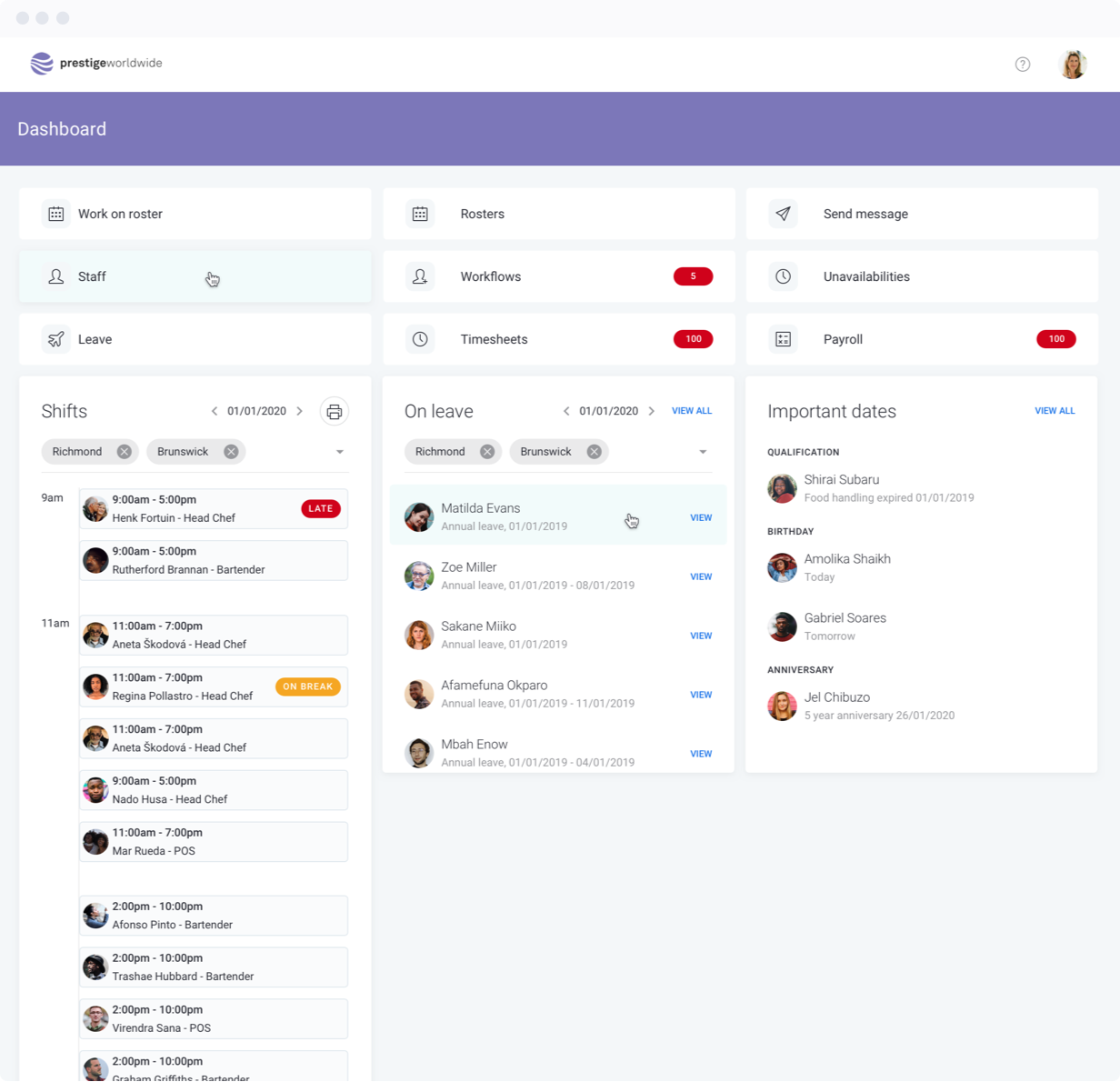 Along with a fresh look and improved load time, we have paved the way to implement customisable widgets & quick links in the near future. This will allow you to tailor the dashboard to different user groups within your organisation and ensure the most important actionable information for that group is on display the second they login.
This initial release will include:
Improved overview of employee shifts with clock in/out status
Separate display of employees on leave with a quick link to more information
Important dates grouped by their categories for easy reference
Facial recognition break clocking   
IN DEVELOPMENT
Customers who use facial recognition on the time clock will be able to track breaks better with the ability to clock them in and out and therefore verify them in the same way they manage clock in and clock outs.
This extra layer of security and monitoring only adds a few seconds to your employee's normal routine and will enable your business to audit all timesheets to a more granular level.
Rate code option for PayGlobal timesheet export   
RELEASED
While fairly specific to our current Ento <> PayGlobal payroll users, your payroll team can now elect to not send specific earning rate codes using the MYOB PayGlobal timesheet export.
This small but important change will give customers more control when it comes to ensuring all employees are being paid correctly and the Ento <> PayGlobal integration is automated.
SAGE leave balance sync   
READY FOR RELEASE
Our growing list of Ento <> Sage payroll customers can now have leave balances for employees automatically sync from Sage to Ento.
These leave balances are then shown in the Ento Employee App where your staff can request leave in accordance with your leave application settings.
Timeclock camera replacement   
IN DEVELOPMENT
With the announcement of Flash being discontinued at the end of 2020, we've taken the opportunity to upgrade our time clock and apps to remove their reliance on Flash and ensure our customers using facial recognition won't have any interruptions to their daily routine.
FastTrack integration   
IN DEVELOPMENT
Further development is underway on our upcoming FastTrack integration, preparing for the deep relationship between your Ento and FastTrack data that will span many areas of the platform.
GPS clock will require location services   
IN DEVELOPMENT
GPS clocking will have a new setting that requires staff to have location services/GPS enabled on their device.
This ensures their shift is recorded correctly on clock in and out, and they're paid what they are entitled to, all with minimal effort from staff and no follow up from managers.
Third-party Compliance   
IN DEVELOPMENT
As per the new requirements laid out by the ATO, we're replacing AusKey with MyGovID for our integration to ensure that the direct submission of TFN details isn't impacted. There is no change needed at your end.
—
See you next month for another update! Feel free to check out past showcases here.