Welcome to our product showcase, full of release information and early looks at upcoming developments.
Timesheet listing improvements   
IN DEVELOPMENT
New timesheet card layout, simplified view of verification and rostered vs recorded times & the ability to multi-select timesheets to make it easier for managers to review & authorise timesheets.
This is the first phase of work in reviewing the experience of the time & attendance module, with the aim to add the ability to review & authorise timesheets in Manager Go.
Dashboard improvements   
IN DEVELOPMENT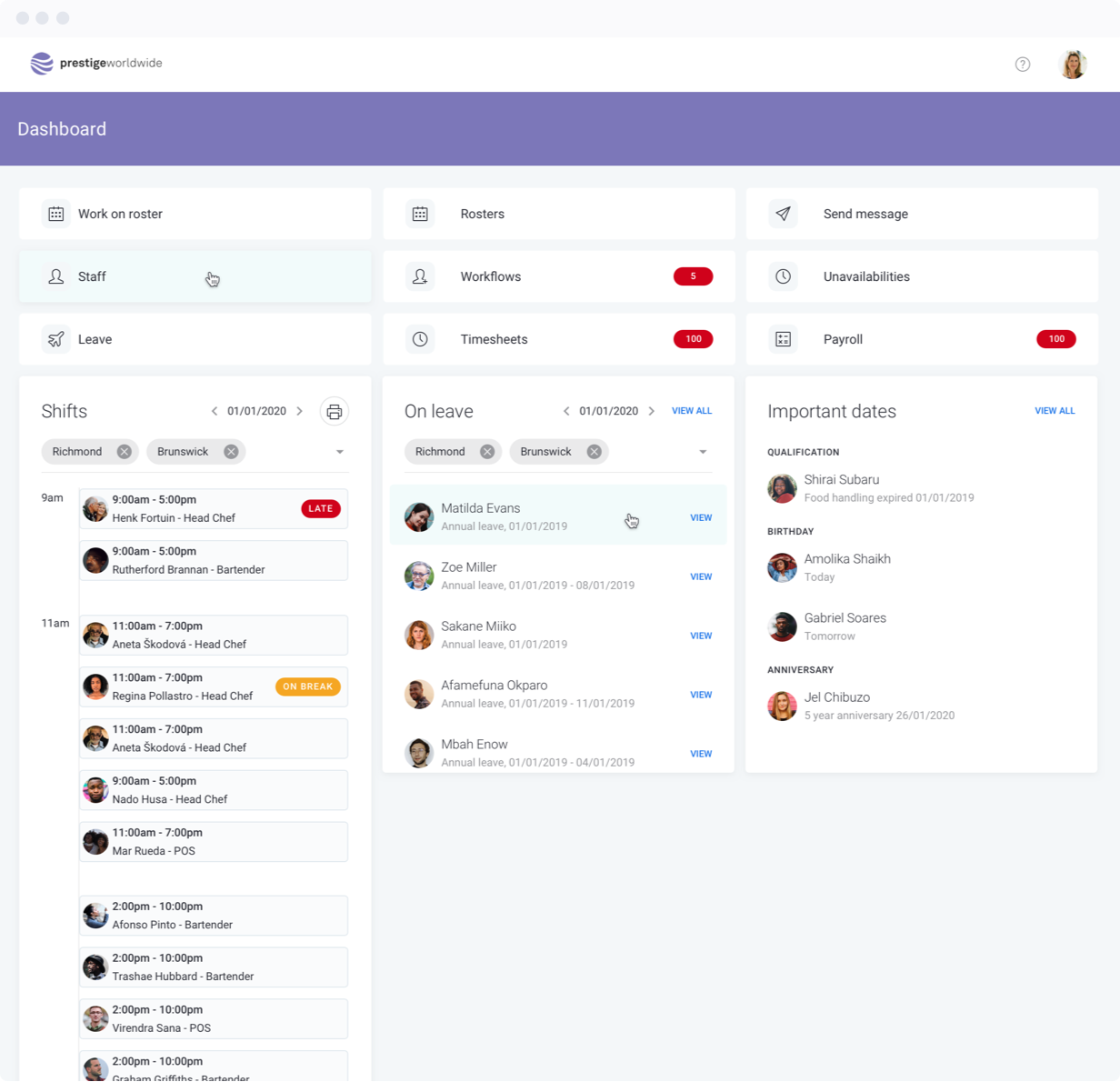 Foundational work to update the styling of the dashboard that will allow future development of customisable & rearrangeable widgets which is currently being defined & designed.
What will be included initially?
Improved overview of employees who are working today with clocked in & out status
Improved overview of employees on leave today
Removal of employees age when it is their birthday – possible company setting to allow businesses who find it useful to keep the feature
FastTrack integration   
IN DEVELOPMENT
Foundational work to support the integration with FastTrack, including:
Several new endpoints added to the public API, including our first endpoints which can create, update & delete employee data
Adding events to the backend which will make it easier to add, edit & delete some features with less risk of system regression
Other features
Improved custom loadings export    RELEASED
Allows payroll managers to be able to add pay schedule name and ID to a timesheet export.
SAGE leave balance sync   IN DEVELOPMENT
SAGE customers can sync leave balances for employees through Ento's API. This allows staff to have an accurate representation of their leave balance in their Ento app.
Timeclock camera replacement    IN DESIGN
Updating the camera in the timeclock app due to Flash being discontinued at the end of 2020.
Facial recognition break clocking    IN DESIGN
Support break clocking in & out for customers who use facial recognition as their clock in method.
Rate code option for PayGlobal timesheet export    IN DESIGN
Managers can now elect to not send earning rate codes using the MYOB PayGlobal timesheet export. This helps ensure that all employees are being paid correctly.
GPS clock will require location services    IN DESIGN
GPS clock in will require location services to ensure that GPS clock in is accurate.
Work schedule start times    IN DESIGN
Adding start times to each day of a work schedule so that leave loadings are applied correctly throughout the leave period.
—
See you next month for another update! Feel free to check out past showcases here.