Welcome to our fortnightly showcase, full of release information and early looks at upcoming developments for the fortnight from 18/03 to 29/03!
Object group visibility   
RELEASED
Ensure sensitive employee information remains private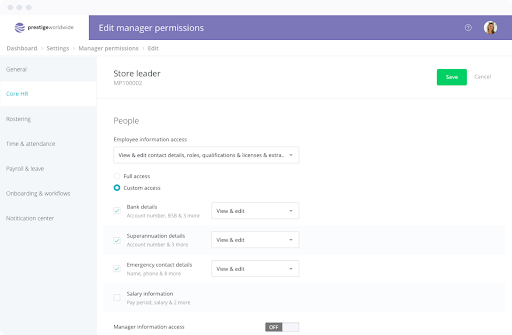 Give managers 'no access', 'view only' or 'view & edit' permission over employee information groups
Restrict information such as salary, exit interview details & performance management details
Refreshed platform look & feel   
RELEASING
Our modern look & feel from onboarding & rostering on existing pages
Visual updates to the platform to unify the user experience & improve the clarity of information
These are style updates exclusively & won't change information shown
First batch of high traffic page (customers & demos):
Rosters
Review timesheets
Leave
Employee list
Unavailability
Pay cycles
Due for release Wednesday 10/4.
Manage pre-start & deleted employees
Reactivate, view & manage terminated & prestart employees
Super managers can filter employees by status (active, prestart, deleted)
Update details & allow deletion for pre-start employees   IN DEVELOPMENT
Reactivate deleted employees    IN DESIGN
Easily access employee info in role view   
IN DEVELOPMENT
Roster against roles & demand, but still see who you are rostering
Click the employee's name in a shift info panel for quick access to the assigned employee's info from any view
Manager login Single-Sign On   
IN DEVELOPMENT
Security, peace of time & less forgotten passwords
Integrate with Active Directory via ADFS or Okta
Centrally control access & credentials for all employees – Ensure onboarding and offboarding stays smooth and secure
Employees can use their company email and password to access Ento — less forgotten passwords
Chris21 employee export     
IN DESIGN
Allowing managers to export employee information in the Chris21 format
For easily importing employee data into Chris21 payroll systems
Removes manual process for operations team of exporting employee information in the Chris21 format
Demand driven rostering actuals   
IN DESIGN
Data actuals for demand driving rostering
Gain insight into forecast accuracy & adjust future days in the roster when needed
Better understanding of whether rosters are compliant & financially viable
Roster create UX    
IN DESIGN
Improving the roster create process
Improved roster create process to help managers better understand the required information to make better decisions when creating rosters
Other features
Bulk create rosters for non-company managers    RELEASED
All managers types with full roster access can now bulk create rosters for their areas
Roster builder scroll performance    RELEASED
Further improvements to reduce the delay of cells when scrolling in the new roster builder
Workflow email attachments    RELEASED
Files attached to workflow notification emails can now be sent with the email
—
See you next fortnight for another update! Feel free to check out past fortnights here.