Welcome to our fortnightly showcase, full of release information and early looks at upcoming developments for the fortnight from 05/08 to 16/08!
Ento <> PayGlobal integration   
RELEASED
Import & export information between PayGlobal & Ento
Automatically send employee between PayGlobal to Ento
Export interpreted timesheets from Ento to PayGlobal
Reconcile leave balances into Ento, leaving PayGlobal to handle complex accruals such as New Zealand days off in lieu
Manager app   
IN DEVELOPMENT
The Ento Edge™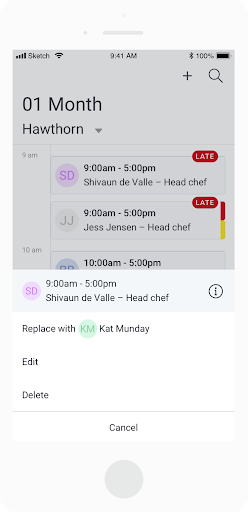 Perform actions as easily & quickly as possible
User centric approach & innovative use of gestures for super fast mobile interactions
Injecting 'smarts' to streamline interactions
Manager app
Delivery roadmap
1. Replace sick employee   IN DEVELOPMENT
Replace sick employees easily through shift suggestions
2. Make last minute shift changes    IN DESIGN
Edit the shift label, break, employee & role for shifts
3. On the spot timesheet approval    IN DESIGN
Edit & approve timesheets on the go via push notifications or "swipe to approve" within the app
4. Who's working    IN DISCOVERY
See who's clocked in & out of their shifts & view their contact details to contact employees who haven't shown up for work
5. Call in employees    IN DISCOVERY
Offer shifts to employees to replace employees who haven't turned up for work today. Or add a new shift when it's busy through shift suggestions
6. Manage shift change requests    IN DISCOVERY
View & approve or reject shift swap drops & covers via a notification centre
View employee information history    

IN DESIGN
Maintain compliance & confidence with easy access to your employee data
View employee information history for a single piece of employee information via the employee edit page
Give HR departments the information they need to answer questions on both current & past employees.
Other features
MicrOpay – Support for multiple baserates    RELEASED
Support multiple industry awards or higher duty allowances across the Ento & MicrOpay timesheet integration.
Custom data field ordering   IN DEVELOPMENT
Providing rostering managers clearer visibility of custom data fields when rostering to ensure employees are given all of the information they need when working
Roster create redesign   IN DEVELOPMENT
Unify the user experience across Ento & clarify information on one of the most used pages in Ento
Bulk workflows via file import   IN DEVELOPMENT
Use the file import to kickoff workflows for a large number of employees. Eliminate the manual process of creating workflows one by one
—
See you next fortnight for another update! Feel free to check out past fortnights here.